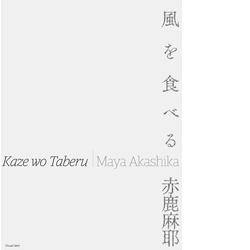 風を食べる
赤鹿麻耶 写真集
4,000円+税 | 354 × 257mm | 100頁 | 上製本
アートディレクション:鈴木一誌
発行 : ビジュアルアーツ専門学校



Eating Wind
Photographs by Maya Akashika

4,000JPY | 354 × 257mm | 100 page | hardcover
Art Director: Hitoshi Suzuki
Published by Visual Arts College

ISBN:978-4-903545-86-8
Published in November 2012




About Book
第10回 Visual Photo Award 受賞作品。
注目の若手・赤鹿摩耶のファースト写真集。
イメージすること。それは自分の全写真の底を繋ぐものになる。

写真を撮り始めて以来、変化はいつも付き物だったが、
「イメージをもとに出発する。」
意識せずともこれだけはずっと変わっていないことだった。
それはもちろん現在も継続中で、終わりのない実験のようなものだ。

『風を食べる』は、そんな繰り返しの中で、
まずは自分自身が自分のつくるものを気持ちよい心で観るにはどうしたら良いだろうと、
そこに辿り着くための実験であった。
ーーー赤鹿
麻耶
「日常の、なにげない情景が、ふと、ゆらぎよじれたとき、
こうした光景として、人の網膜に映り見えるのかもしれない。
きわめてエキセントリックでスチルな世界、醒めた欲望が
閉じ込められている、危ないイメージの遊戯。」------森山大道
「本書が載せる〈水中〉の写真は衝撃的だ。
プールの水が、ひとのあいだの壁となり、
〈わたし〉は、液体を掻き分けなければ他者に接近できない。
自分の表情すら、水中ではままならない。
〈世界〉は、流動する物質に包まれているのではないか。
本書の作者は、〈関係〉を液体として描きだした。
だから、風を〈食べる〉のだ。」------鈴木一誌
Creating an image.
That is something connects every single image of my works.

I feel the limitation that confines the outline of my images and rather let them grow and danve as they want to.
It is like an experiment which will never end.

I am one of the audience of my own show, simply enjoying the outcome.
Through "Eating Wind", I may have started seeking the way to remain as one of them for the rest of my life.
--- Maya Akashika


"It may be during the moments when casual scenes of the day-to-day waber and warp for an instant, that images such as these are projected onto the retine, and become visible. An extremely eccentric and still world, with roused desire encapsulated whithin. Visions of a dangerous game" --- Daido Moriyama


"The name "Maya Akashika" ("red deer") has tremendous impact. The vision of a deer standing motionless, bathed on the blood-red light of the setting sun, sonvinces me that she must be possessed of some shamanistic nature. Truthfully, as I look over these photographs of hers, the extreme intensity of the performance unfolding there, appears in my eyes as some ritual offered up to a transcendental existence. The photographer herself, as well as her models, are envelopedin a dream-like, entranced state of consciousness. And everntually, the viewer is nearly drawn into this shamanistic realm." --- Kotaro Iizawa

This book is sponsered by Visual Arts Photo Award of Visual Arts College.