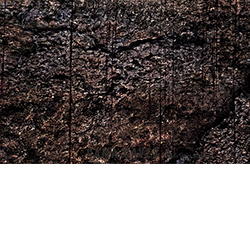 GAMA CAVES
オサム・ジェームス・中川 写真集
5,000円+税|247×370㎜|88ページ|上製
ブックデザイン:町口 景
GAMA CAVES
Photographs by Osamu James Nakagawa
5,000JPY|247×370㎜|88 page | hardcover
Book Design : Hikari Machiguchi
ISBN: 978-4-86541-008-2
Published in November 2013


*お支払い方法は、代金引換、銀行振込、郵便振替、クレジットカード支払い、PayPal よりお選び頂けます。
About Book
沖縄の洞窟「ガマ」。歴史が眠る闇を見つづけた力作。

ガマ

オサム・ジェームス・中川

バンタからガマの奥底へとマブイたちに誘われるように入っていった。
ここは、沖縄の霊魂、祖先、歴史、記憶が宿る神聖な場所。
恐る恐る足を踏み入れたガマの中は、ぞっとするような暗闇と重たい空気が漂う。
足下には、戦争の残骸が散らばっている。

深い闇に包まれ、何が見えよう。地球の子宮の底で対話はつづく。

シャッターを解放にし、見えないものを求め、懐中電灯を手に私は探る。
洞窟内がゆっくりとカメラに沁み込んでゆく。
私はイメージのなかを浮遊し、マブイたちとの対話をつづける。

何が聞こえているのだろう。
何が彼らのために表現できるのだろう。
イメージはどうひとに語りかけるのだろう。

これらの問いかけが私のなかでこだまする。
洞窟の闇からスタジオに戻り、霊たちを描きだすために。

-----

「GAMA」は、闇のなかに眠り続けてきた遺品や遺骨、鍾乳石に刻まれた文字、そして眼には見えないが濃密な気配として漂う「マブイ=魂」との対話の結晶だということができる。(仲里効)

彼の制作行為は「撮る」というような言葉に示唆されるような、捕獲的で瞬発的なものではない。むしろ「見続けること」と呼ぶほかないような、脅迫観念的なまでの想像力への意思をもって対象と相対し続けることだ。(竹内万里子)

中川の画像は自然、時、儀式と歴史の沁みついた特定の場所を見せて、そこでいったい何が起こったのか、見る者に想像力をかき立たせる。彼と同じく私も思うのだが、いまだ消え去ることのない、これら霊魂の宿る場とその様々な過去を、日本人の歴史と意識から遺棄してしまってはならない。(アン・ウィルクス・タッカー)



Osamu James Nakagawa's "Gama Caves" is a complex work that deals with spirituality and history in Okinawa, the islands that lie to the south of mainland Japan. The photographs contained in this book were all shot in seaside caves, known as "gama" in the native Okinawan language. These caves, which are said to harbor the spirits of the dead, have been used as burial grounds and offering sites since ancient times. Yet they have also played a role in more recent history: during the Second World War, they were initially used by civilians as a place of refuge, but they eventually became the sites of massacres after Japanese troops took them over and attempted to hold them out against American forces. As a Japanese-American married to a woman from Okinawa, Nakagawa himself represents some of this complicated history. In order photograph these caves, which are of course entirely dark, Nakagawa opened the shutter of the camera and used a small flashlight to gently illuminate the surface of the caves, as a way to "draw out" the spirits that live there. Later, in his studio, he used digital techniques to make the images more legible. The result is a series of images that are, in a perhaps literal sense, haunting. The black pages of this oversize book mirror the darkness of the caves themselves, heightening the effect of descending into an unknown world. Texts by Osamu James Nakagawa and curator Anne Wilkes Tucker. Includes English translations of a poem by Ben Takara and texts by critics Isao Nakazato and Mariko Takeuchi.
Gama Caves

From the banta cliffs of Okinawa, mabui - the spirits of the land, of the deceased - led me into the gama caves below.
These caves are the sacred home of Okinawa's spirits - its ancestors, its history, its memory.
I enter hesitantly - through the eeriness of the cave's dark, heavy air, through the remnants of war scattered on the ground.

Enveloped total darkness, what could I possibly see? Yet inside the earth's womb, deep in this darkness, the conversation continues.

With just a flashlight in hand, I search for anything I might find, unable to entirely illuminate my surroundings.

The shutter wide open, I enter into the image, my flashlight in hand, floating and conversing with mabui as the cave's interior slowly seeps into the camera.

What am I hearing? What can I express for them? How will these images of darkness speak to others?

These questions continue to resonate in my mind as I return from the blackness of the caves to my studio to draw out the spirits of this place.
――――Osamu James Nakagawa
SimpleViewer requires JavaScript and the Flash Player.
Get Flash
Artist Information
オサム・ジェームス・中川|Osamu James Nakagawa
写真家。1962年、米国ニューヨーク市生まれ。ヒューストン大学修士課程修了(写真学)。1996年よりインディアナ大学准教授。現在、米国在住。
1980年代より本格的に写真制作を開始し、90年代より世界各地で数多くの個展・グループ展に参加。日本とアメリカという2つの国にまたがる自身のアイデンティティを踏まえ、様々な作品を制作、発表してきた。
Osamu James Nakagawa received a MFA from the University of Houston and currently, he is an associate professor at Indiana University in Bloomington,
Indiana. Nakagawa is a recipient of the 2009 John Simon Guggenheim fellowship and 2010 Higashikawa A New Photographer Award in Japan.