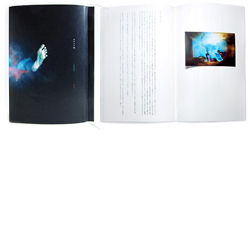 カナリア門
志賀理江子

6,300円+税 | 232 × 270 mm | 120頁 | 中綴じ | プリント56点貼り込み | 限定1000部 サイン及びエディションナンバー入り
アートディレクション : 森大志 郎
CANARY - MON
Photographs and essays by Lieko Shiga
6,300JPY | 232 × 270 mm | 120 page | saddle stitch
56 prints mounted | Limited edition of 1000 copies | with edition number and signed
Art Director : Daishiro Mori
ISBN: 978-4-903545-48-6
Published in October 2009




About Book
『CANARY』収載の全点について、それぞれの写真のなかで何が起こったか
第33回木村伊兵衛写真賞受賞作『CANARY』収載の全点について、作家自らが撮影を振り返り、テキストを記した。それぞれの写真のなかで何が起こったか、何故そうなったかを検証し、その深層に帯びていた物語を異なるメディアである言葉によって紡ぎだす営みは、新たなイメージへとつながる。それぞれのページに貼り込まれたプリントは、作者により、プリントそのものに光をもう一度当てて撮られたものである。
CANARY presents a beguiling body of work by a young photographer. The constructed images are steeped in a world of magical realism charged with a primal and animistic immediacy. The world in Shiga Lieko's hands seems to be pregnant with dynamism and movement, which at times can also be threatening. Throughout the work, the viewer is prompted to speculate how the photographs were created. What was her process? What aspects have been captured by the camera and what has been adulterated. It seems only fitting that after the book's release, Shiga revisited her work and created a limited-edition photobook as a companion, CANARY-MON. In this smaller volume, she presents an reading or explanation of each of the images but with the distance of hindsight. Therefore the plates themselves, rather than direct reproductions of the original images, are photographs of the photographs. These plates are then tipped in and only loosely adhered to the page, implying tenuousness. The typography too fades in part from the page. So even in her meta-text on her own work, the process and work remains in a state of flux between presence and non- presence, vibrant color and fading away. CANARY-MON is encased by a sleeve that cocoons the single-found binding.
reviewed by Ivan Vartanian

SimpleViewer requires JavaScript and the Flash Player.
Get Flash
Artist Information
志賀理江子 | Lieko Shiga
>
HP http://www.liekoshiga.com/
1980年、愛知生まれ。宮城在住。『Lilly』はロンドン在住時に公営団地の住民にカメラを向け、そのプリントをさらに撮影した作品で構成されたシ リーズ。『CANARY』は、仙台、オーストラリア、シンガポールで住民たちに取材し、導き出された「地図」をもとに、意図や作為を越えた何かをも捕獲し ながら撮影していくフィールドワーク的試み。写真集『Lilly』『CANARY』の2冊で、2008年度木村伊兵衛賞を受賞。2009年にはNY ICPインフィニティアワード新人賞を獲得している。また、2010年に『カナリア門』を出版。
1980 Born in Aichi, Japan
2004 Graduate at Chelsea University of Art and Design / BA Fine Art New Media, London, UK

- Solo Exhibition -
2001 [Floating Occurrence] graf, Osaka, Japan
2003 [Jaques saw mw tomorrow morning.] graf media gm, Osaka, Japan
2005 [Lilly] graf media gm, Osaka, Japan
2006 [Lilly] NUKE gallery, Paris, France
2008 [A Stranding Record] Fotogalleriet, Oslo, Norways
2011 [CANARY] Mitsubishi-Jisho ARTIUM, Fukuoka, Japan
2011 [CANARY] Galerie Priska Pasquer, Cologne, Germany

- Awards -
2005 Mio Photo Award - Jurors Award (Michiko Kasahara), Japan
2008 Kimura Ihei Photography Award, Japan
2009 Infinity Award / Young Photographer, International Center of Photography, NewYork, United States of America

- Publications -
"Lilly" artbeat Publishers CO, Ltd.
"CANARY" AKAAKA Art Publishing, Inc.
"CANARY-MON" AKAAKA Art Publishing, Inc.