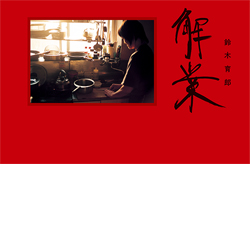 『解業』
鈴木育郎写真集
定価:4,000円+税|263×173mm|256ページ|上製本
デザイン:塚原敬史(trimdesign)

GEGOU
Photographs by Ikuro Suzuki
4,000 JPY|263×173mm|256 page | hardcover
Design : Takashi Tsukahara
ISBN:978-4-86541-038-9
Published in September 2015.
*お支払い方法は、代金引換、銀行振込、郵便振替、クレジットカード支払い、PayPal よりお選び頂けます。
About Book

業を解き、写真を解き放つ。
鈴木育郎第一弾。

年明けに大阪から戻った私は、再び東京のエネルギーの渦に引き込まれていった。8月の旅へ向けて準備をする中、写真集の発表が決まり今まで以上に明確な目標ができた。
 出会いの喜び、別れの悲しみ、全てを生きる力にする。写真はそれを後押しし記録する。人がそれぞれに背負った業は、人を幸せにし人を傷つける。自分の写真は見た人の業を一瞬でも軽くし、解いていく。出会う人にとってもそういう人間でありたいし、自分の写真もそうでありたい。自分が人との関わりや写真や他の表現にそれを求めるように。
 深紅駆け巡るこの肉体が光を前に立ち止まり、鼓動を胸から投げたとき、決して止まることのないこの時を瞳の奥に刻み込む。

 すべての写真は幻、出会うその時まで。

―――― 鈴木育郎


人にそれぞれ課せられた試練を「業」と呼べば、業は交差し絡まり、日々は至福と奈落を行ったり来たり。 試練を受けとめ乗り越えようとする過程で見えてくるもの、その瞬間を噛みしめ、味わい、表現が生まれる。 個人的であるその表現が他者の感覚、人生に作用するとき、両者の業が少なからず解かれる。

写真は、撮影や発表によって、見る側の人をも被写体や風景として巻き込んでいく。 撮る側も巻き込まれて出会いが生まれる。 相手を意識して見つめあうとき、光が射し、絡まった糸が解けていく。

「解業」とはそのまま写真であり、一冊目にあえてこれを掲げることは、鈴木育郎の覚悟でもある。 ただ、業は解かれても、それはずっとは続かない。 その儚さをも抱きとめて、写真の光と「いま」がある。




Gegou

Ikuro Suzuki

The magnetic, almost inevitable force of Tokyo draws youth from across Japan. While the younger ones arrive to begin school, college graduates in crisp black suits interview flood the city looking for entry positions in one of Japan's internationally known corporations. Still others, like Ikuro Suzuki, arrive in the capital with a camera around their neck and two cardboard boxes under their arms- and check in to an itinerant labourer dormitory. Leaving both his mother and brother in their one room apartment and a life of dusk-to-dawn work at a bar in Shizuoka prefecture for Tokyo, Suzuki soon found employment as a scaffold erector. Here he joinined a crew of rough men in a dangerous line of work, performing difficult labor suspended above the city skyline.

In reaction to this pressure cooker of out-of-town loneliness, male camaraderie, and physical exhaustion, Suzuki aims his camera along a straight line of vision and fires his shutter time and time again towards the people- his coworkers and friends, and places- skyscraper-vistas and cramped Tokyo bars, as well as food and women that make up his life. These images, color prints numbering into the thousands, weave a richly personal tale that Suzuki then physically fashioned into an astoundingly rich collection hand-made photo books. His intense work ethic is reflected in volume after volume of these collections- a body of work for which he was awarded the prestigious Grand Prize of the Canon New Cosmos of Photography in 2013.

Suzuki, armed with a sensitive stare and a battered Nikon SLR, has created a stream of photographs which are best experienced one after another, bound and held in the hands of a reader. Akaaka is therefore pleased to present the first of twelve books by Ikuro Suzuki- an ambitious project with the goal of publishing one new volume each month for 2016. Readers are invited to meet the wave that is the output of his photographs head on- hopefully it is in daily living where we can share in Suzuki's "joy of meetings" and accept the "sorrow of partings" that make up daily living.


SimpleViewer requires JavaScript and the Flash Player.
Get Flash
Artist Information
鈴木育郎|Ikuro Suzuki
1985年 静岡県浜松市生まれ 21歳より写真を始める
2010年 舞踊家 吉本大輔氏のポーランドツアーに同行
帰国後、東京に移る
2012年 個展「月夜」マチュカバー
2013年 個展「月の砂丘」蒼穹舎
     キヤノン「写真新世紀」グランプリ受賞
2014年 個展「月夜」nuisance galerie
     写真新世紀 東京展 2013「最果-Taste of Dragon」東京都写真美術館 地下1F 展示室
1985 Born in Hamamatsu, Shizuoka, Japan
Started taking photographs since 21 years old
2010 Accompanied a dancer, Mr. Daisuke Yoshimoto for his dance tour to Poland
Moved to Tokyo after his return
2012 Solo exhibition "a moonlight night" macska bar, Tokyo, Japan
2013 Solo exhibition "The sand dune in the moonlight" Sokyusha, Tokyo, Japan
    Won the Grand Prize of New Cosmos Photography 2013
2014 Solo exhibition "a moonlight night" nuisance galerie, Tokyo, Japan
New Cosmos of Photography Tokyo Exhibition 2013 "SAIKA-Taste of Dragon" Tokyo Metropolitan Museum of Photography, Exhibition Room on B1F, Tokyo, Japan