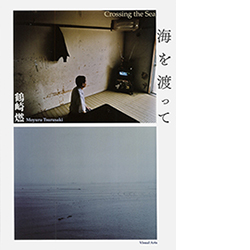 海を渡って
鶴崎燃写真集
4,000円+税|364×257mm|112ページ|上製本
デザイン:鈴木一誌+桜井雄一郎
Crossing the Sea
Photographs by Moyuru Tsurusaki
4,000 JPY|364×257mm|112 page | hardcover
Book design:Kazushi Suzuki and Yuichiro Sakurai


ISBN:978-4-86541-040-2
Published in February 2016.


About Book

満州・ミャンマー・ブラジル
各国から日本へ渡ってきた人たちとその国へ渡った日本人たちを、10年かけてとらえたドキュメンタリー
歴史と社会を見つめ直す力作

的確な"歴史認識"と"現状認識"とで、日本と満州(現中国東北部)、日本とミャンマー、日本とブラジルなど、それぞれの間に生じる複雑な人間交差の実態を、鋭く、そして暖かいカメラワークで写し撮り、 「記憶・記念・記録」という写真の本質を表すドキュメントになっています。鶴崎燃さんの、この三部作は、知と情に支えられています。
――森山大道(写真家)

この困難にも思える大三部作を、ひたすら無垢なる眼差しをもって貫き通した、美しい写真家の魂に触れ、心が激しく震えた。
――上田義彦(写真家)

「戦後70年」にふさわしい力作としか言いようがない。長期にわたって、旧満州、ミャンマー、ブラジルを行き来し、厚みのある作品に仕上げた。ドキュメンタリーという範疇に入るのだろうが、一枚一枚の写真の密度、クオリティが凄過ぎる!ひさびさにスケールの大きな新人(39歳ではあるが)が登場してきて興奮させられた。
――飯沢耕太郎(写真評論家)

ビジュアルアーツフォトアワードの審査において、初めての事ですが、最終審査の十数作品が出そろったところで、他を検討することなく「これしかない! 」と全会一致で可決しました。それほどにこの作品には、写真の持つ力とその魅力が存分に表現されています。それは過去と未来の間で、または日本とブラジルやミャンマー、そして旧満州の間で、海を渡り時空を難なく越えてゆく人々の姿が、ありがちなこの時代の記録としてだけではなく、何よりも写真的であるのが素晴らしい。
――瀬戸正人(写真家)

日本×満州は、中国残留邦人、帰国後の生活とかつての満州国当時の面影、日本×ブラジルは、日系ブラジル移民のブラジルでの生活と日系ブラジル人の日本での生活、これら日本人の物語は多くの写真家がテーマにしてきた。鶴崎さんはここに在日ミャンマー難民の日本での生活とミャンマーの今とタイ国境のミャンマー人難民キャンプでの生活を加え三部作とした。視点がいい。グローバル化が進む今、日本人が知っておかなければいけない過去、現在が魅力的な写真表現で提示されて未来を考察する想像力を刺激する。
――百々俊二(写真家)


Crossing the Sea

Moyuru Tsurusaki


Crossing the Sea, awarded the 13th annual Visual Arts Photo Award, introduces to a wider audience the ties which bind Japan to under-considered aspect of the recent history of its people, people who, from both directions and for different reasons, crossed the sea which surrounds the island nation. This is a book about Japan, but also about how nations and culture surround and affect the human experience.

Tsurusaki began his project- one that stretched out over a decade- with interest in a human legacy of Japan's imperial ambitions in Manchuria, photographing people whom are known as "Chugoku Zanryu Hojin (Japanese nationals left behind in China)".
These people, often orphaned or somehow abandoned as Japanese citizens whom "settled" Northeastern China fled back to their homeland at the end of World War 2, spent the post-war years finding their own way in the world, halfway between nations but not fully belonging to either. The images which make up Tsurusaki's photographic testament to these "forgotten relatives" are solidly descriptive, quiet, and beautiful. They stand with the best which photojournalism can offer but there is more than mere visual reportage to this project. Shown along with these images of Japanese survivors are photographs of their descendants, native Chinese of Japanese heritage- and young Japanese whom have been relocated to this part of China by their employers. The tension, felt through time and native-place, provides a fascinating look at globalization.

Upon completion and exhibition of the Manchuria series, Tsurusaki felt a need to further his understanding and exploration of Japan's immigration history. For this he looked farther west, to Myanmar, a nation whose citizens Japan had officially begun taking in refugees from. Images from the photographer's visits to the Mae La refugee camp in Myanmar give way to photographs taken of the refugees' new lives in Japan- both of their struggles and determination.

Even with the inclusion of such a fine portfolio as Japan X Myanmar / Myanmar X Japan images, Tsurusaki was not yet finished. It is in the final third of this book that the viewer is led once more over the sea- this time to the East, to Brazil, home of the largest Japanese community outside of Japan itself. In 1907 immigration from an impoverished Japan began when the first 790 Japanese, mostly farmers, crossed the sea to find employment on the coffee farms of Brazil. Today over one million and four-hundred thousand citizens of Brazil claim Japanese heritage. Among them, Tsurusaki has compiled a vivid and honorable portrayal of their lives. As with the previous two sections of the book, the theme again folds back onto itself- viewers are taken back again to Japan and into the homes and lives of the young Brazilians of Japanese descent whom have settled in the land of their ancestors- people whom were called back over the sea for employment in Japan's automobile factories during the bubble economy heydays.

It is precisely this back-and-forth element to Crossing the Sea that helps provide the book its power. Perhaps Visual Arts Award judge and photographer Daido Moriyama's comments put it best:

Possessing a precise insight into history and the present day, the author captures with acuity and warmth the complex reality of human relations between Japan and Manchuria (now Northeast China), Japan and Myanmar, Japan and Brazil, and encapsulates the very essences of photography in his work: memory, commemoration, and documentation. Intelligence and heart lay at the foundation of this trilogy by Moyuru Tsurusaki.
SimpleViewer requires JavaScript and the Flash Player.
Get Flash
Artist Information
鶴崎燃|Moyuru Tsurusaki
愛知県出身
中部大学土木工学科卒業
名古屋ビジュアルアーツ写真学科卒業
2003年 名古屋ビジュアルアーツ写真学科講師
2004年 写真家・大石芳野氏に師事
2011年 フリーとして活動
写真展
「海を渡って」-日本×満州- Juna21 新宿ニコンサロン 09年6月
「海を渡って」-日本×満州- Juna21 大阪ニコンサロン 09年9月
三木淳賞奨励賞受賞作品展 新宿ニコンサロン 09年12月
三木淳賞奨励賞受賞作品展 新宿ニコンサロン 10年1月
「海を渡って」-日本×満州- 三鷹市役所 10年3月
第16回ヤング・ポートフォリオ展 11年3~6月
「海を渡って」-日本×ミャンマー- 新宿ニコンサロン 12年6月
「海を渡って」-日本×ミャンマー- 大阪ニコンサロン 12年8月
受賞
第11回三木淳賞奨励賞
収蔵
清里フォトアートミュージアム 作品10点