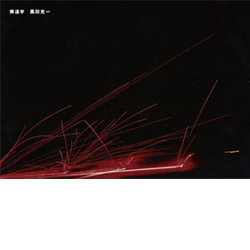 弾道学
黒田光一 写真集
5,000円+税 | 364 × 257 mm | 112頁 | 上製本
アートディレクション : 中島英樹
Ballistics
Photographs by Koichi Kuroda
5,000JPY | 364 × 257 mm | 112 page | hardcover
Art Director : Hideki Nakajima
ISBN : 978-4-903545-34-9
Published in September 2008

About Book
帯文より

暴力も静寂も世界の余白に過ぎない。
すべての余白が、無造作に散らかった解体現場から。
園 子温(映画監督)

それでも水を飲むため、何の証にすがろうか。
路面、メトロ、山の麓で、
ショッピングモールで、
物質のように僕は閉じていた、開いていた。
すべてを見ている自分は、
その実すべてから見られていると知らされる、
そこから洩れる言いようのない胸の悪さと安堵。
果たしてそうあるべくある人間が掬う光には、
さしたる理由も美も見つからない。
ただもう、その生にしがみつき、
唯一の頼りは、無いものねだりな
空っぽの精神だけだ。
暴力の輪郭、人間の輪郭、人間は自分か。
おまえやおれやかれやきみは
おまえやおれやかれやきみの映しでしかない。

黒田光一
"Ballistics" is an abstract meditation on the violence and tension hidden in everyday life. At times, Kuroda's color photographs depict street scenes, with special attention paid to children. In other places, his eye turns to urban emptiness, where he studies the patterns of lines and shadows. Towards the end of the book, Kuroda's photographs hint at the title, as he photographs the flight patterns over the Gotemba base located in Shizuoka, Japan. Kuroda shot this work over a period of about 10 years, in locations all over the globe: Sao Paulo, New York, Toronto, Tokyo. Taken as a whole, the work conveys Kuroda's experience of these places to the viewer.
SimpleViewer requires JavaScript and the Flash Player.
Get Flash
Artist Information
黒田光一 | Koichi Kuroda
1968年 栃木県生まれ
2010年 自主ギャラリーlodge (現:峠)を始める

- 個展 -
2005年 「ballistics」 art&river bank (東京)
2010年 「イエス」lodge (東京)、「こころ」lodge (東京)
2011年 「峠」AKAAKA (東京)

- グループ展 -
2009年 「8 PHOTOGRAPHERS EXPERIMENT」 AKAAKA (東京)
1968 Born in Tochigi, Japan
2010 Started to own a gallery 'lodge' (now : Touge)

- Solo Exhibition -
2005 'ballistics', art&river bank, Tokyo
2010 'Yes', lodge, Tokyo. 'Kokoro', lodge, Tokyo
2011 'Touge', AKAAKA,Tokyo

- Group Exhibition -
2009 '8 PHOTOGRAPHERS EXPERIMENT', AKAAKA, Tokyo.