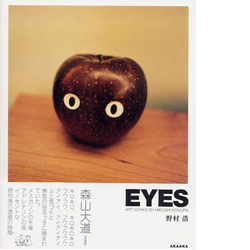 EYES
野村 浩 写真集
About Book

キヤノン写真新世紀第3回、第5回公募優秀賞」受賞作家、
野村浩の初作品集。
見ているのか、見られているのか。
あらゆるものに目玉がついたとき、
日常がひっくりかえり、
違う世界(次元)が顔を出す、
大人のファンタジー
野村によって表現された"なにものか"は
見る人の心を翻弄し、
知らぬ間に野村ワールドへ誘います。
キロキロ、キロキロキロ、フワフワ、フワフワフワ、アイアイ、アイアイアイ...ふと気づくと無数の目玉っ子に囲まれていた。メスカリンの午後、アドレナリンの夜、イノセントな、野村浩の遊戯の時間。
森山大道(写真家)
"EYES" announces itself as a book of "Art works by Hiroshi Nomura." The works in this book are color photographs of everyday scenes, to which two simple black-and-white plastic "eyes" have been added. This small gesture makes something like a drinking glass appear just a little bit different--it's impossible to see it as just a glass. An external hard drive seems to lurk next to a nearby monitor and desktop computer, while a blade of grass turns into a strange sort of insect. "Eyes" is a thoroughly playful work.

Includes English translation of text by the artist.
SimpleViewer requires JavaScript and the Flash Player.
Get Flash
Artist Information
野村浩 | Hiroshi Nomura
>
HP
1969年静岡県生まれ。
東京芸術大学美術学部油学科卒業。
東京芸術大学大学院美術研究科油画専攻修了。
- 個展 -
1993年 「なすび画廊 花の子エリカ・花の居場所」(池袋アールヴィヴァン/東京)
1997年 「THE GENESIS OF THE EXDORA WORLD」(Taka Ishii Gallery/東京)
2001年 「EXDORA FLYING OBJECT」(Taka Ishii Gallery/東京)
- グループ展 -
「写真で語る」(東京芸術大学陳列館/東京)
など、多数に参加
1969 Born in Shizuoka, Japan. Graduated from Tokyo University of the Arts, Department of Painting. Completed Graduate School of Arts, Tokyo University of the Arts.