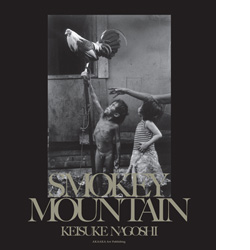 SMOKEY MOUNTAIN
名越啓介 写真集 
4,000円+税 | 258 × 300 mm | 132頁 | 上製本
アートディレクション : 町口景



SMOKEY MOUNTAIN
Photographs by Keisuke Nagoshi

4,000JPY | 258 × 300 mm | 132 page | hardcover
Art Director : Hikari Machiguchi


ISBN : 978-4-903545-70-7
Published in April 2011













About Book
ドキュメンタリーの新たな旗手・名越啓介が10年をかけて、
フィリピン・マニラのスモーキーマウンテン(スラム街)を撮影した写真集。
光と闇、生と死が激しく交錯するなかに、人の絆や祈りが浮き彫りになる。
ドキュメンタリーのスタイルを内側から揺さぶり、切実なイメージへの回路をひらく新潮流。
「この『SMOKEY MOUNTAIN』は名越啓介という1人の若い写真家がマニラのスモーキーマウンテンに一目惚れし、10年かかって口説き落とした、とても私的なスモーキーマウンテンへのラブストーリーでもあると同時に、深い闇のベールに覆われたフィリピン社会の光と影を収めた貴重なルポルタージュでもある。」
林文浩(DUNE/THE LAST GALLERY)
Keisuke Nagoshi's "SMOKEY MOUNTAIN" is the result of 10 years of photographing the life around an enormous garbage dump in Manila which is inhabited by thousands of people. Over his many trips to Smokey Mountain, Nagoshi became close to the people living there, and this human connection comes through strongly in his work. He's able to document the reality of this place without simply trying to shock the viewer. At times, Nagoshi's photographs approach an almost classical black and white snapshot aesthetic, while at other times he uses a simpler style to show an event, or someone's face. Life in Smokey Mountain is harsh, but Nagoshi is able to offer a carefully considered perspective on the way that people live and die in these conditions.

Includes English translations of texts by editor Fumihiro Hayashi and the photographer.
SimpleViewer requires JavaScript and the Flash Player.
Get Flash
Artist Information
名越啓介 | Keisuke Nagoshi
1977年奈良県生まれ。東京在住。1996年より世界各地にてスクウォッター(不法占拠者)との共同生活による撮影を開始。著書に、写真集『EXCUSE ME』(トキメキパブリッシング刊、2006年)、『CHICANO』(東京キララ社刊、2008年)がある。
Born in 1977 in Nara, JAPAN.
When he was nineteen years old, he went to the United States on his own. Traveling many places,from L.A., Seattle,San Francisco, Canada, and to Mexico, he lived together with squatters from the North American continent and portrayed their way of life on his film. After that,this peculiar trip became his lifework. In 2004,he visited the Philippines for the first time and was attracted to Scavenger's yet boundless cheerfulness. Thereafter, he began to take photographs of "heresy" from Asia. In the spirit of his trips with American squatters, he visited four Asian countries.