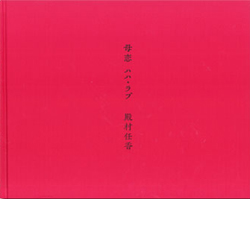 母恋 ハハ・ラブ
殿村任香 写真集
4,200円+税 | 264 × 208 mm | 134頁 | 上製本
アートディレクション : 中島英樹
mama love
Photographs by Hideka Tonomura
4,200JPY | 264 × 208 mm | 134 page | hardcover
Art Director : Hideki Nakajima
ISBN : 978-4-903545-33-2
Published in September 2008


About Book
「STUDIO VOIDE」2008年3月号より

殿村任香は写真界に現れた黒女豹である。
エロス、愛、関係性、写真というアートに対する獰猛さ。
これは新しい3Pだネ。月に2、3回交わろう。

荒木経惟
Hideka Tonomura's "Haha Love" is an intimate portrait of the photographer's mother, split into two distinct halves. The first part, shot in black and white, shows Tonomura's mother in bed with a lover. Tonomura obscures the lover, which brings the viewer's attention right to her mother's face. These photographs were difficult to take, and although there are elements of pain and complicity here, the series is intended as a statement of affection. In the second half, shot in color, we see her mother counting money, which was for a loan that needed to be paid back. Clearly, each part has a certain amount of tension, and the book taken as a whole is an intense exploration of the photographer's immediate family. Nobuyoshi Araki writes the Obi for this phonebook saying "Playing around with the darkness."
SimpleViewer requires JavaScript and the Flash Player.
Get Flash
Artist Information
殿村任香 | Hideka Tonomura
HP
1979年生まれ 2000年 ビジュアルアーツ専門学校大阪校放送・映画学科卒業
2002年 写真を撮り始め、03年1月個展「渦」、グループ展等に参加
2003年 「Nikon Salon Juna21」に入選
2004年 個展「我家の幸い家庭―その時は、死んでもいいと思ったよ―」を開催
2004年 殿村任香写映劇 浄瑠璃×写映」(UPLINK FACTORY)など、多分野で活動中。

1979 Born in Kobe, Hyogo pref, Japan
2000 Graduated from Visual Arts school, broadcasting & filmmaking department.
2002 Started her career in 2002 as a photographer,
2003 Nikon Juna21 prize
2008 Published a photo album "Haha Love" (Akaaka Art Publishing Inc.) in 2008.

Her photographs show her obstinacy towards her family and are acclaimed for their uniqueness which are very physiologic and at the same time, somewhat comedic.
Received lots of media exposure in various fields. Lives and Works in Tokyo.